London 2144 Competition Winners
7th October 2019
What does the future look like? This question was raised by Tower Bridge in their London 2144 competition. The competition sought to find imaginative visualisations of the bridge and the accompanying London skyline 125 years on from today.
Imagine you're standing on the banks of the River Thames, looking west towards Tower Bridge and the City. In the year 2144 what does the skyline look like? Would it be recognisable to us today? What does Tower Bridge look like (if it's still there)?
Curved Axis' Luke Sozzo produced a conceptual sci-fi visualisation that has been announced as the competition winner! To celebrate this achievement, Luke was invited for a cruise along the Thames, a behind the scenes tour of Tower Bridge and was even allowed to operate a bridge lift!
The artwork is now hung proudly in the south tower of the Bridge and will be on display until the end of October. Pop in and see it for yourselves if you have the opportunity.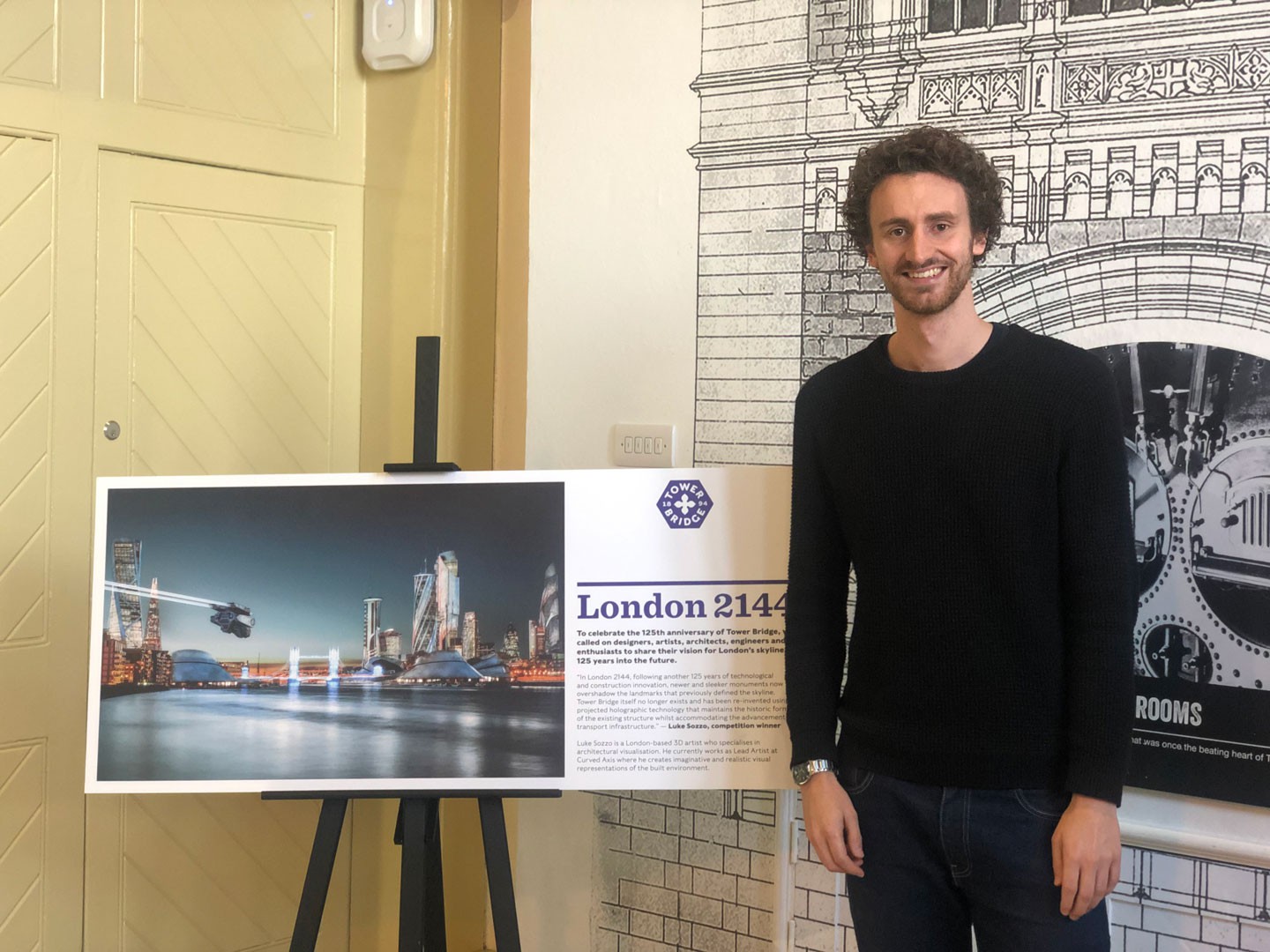 Luke Sozzo beside the winning image in the south tower of Tower Bridge.
Luke shared his thoughts on the creative process and his Tower Bridge experience.
It was a really interesting piece to work on, not only because of the bridge's distinctive architecture but also from a creative standpoint. The brief was very open which encouraged different approaches and allowed experimentation with lots of ideas, some of which are not traditionally used in architectural visualisation. To top it off, lifting the bridge and seeing my work on display was a fantastic reward.
While the conceptual style of the winning image has a stark visual contrast in comparison to most of our work, it utilises many of the same techniques as our interior design renders, architectural visualisations and animations.
So, what do YOU think the future will look like? Do you agree with Luke's interpretation? Let us know on Instagram, Facebook or using our contact form.
Let us know what you think! Would you like to see more content like this? Or have you got a question for us? Either way, we look forward to hearing your thoughts and continuing the discussion.
Alternatively, if you want to talk about career opportunities, discuss an upcoming project, or just say hi, we would love to hear from you too!