What are Interactive Walkthroughs?
An interactive walkthrough (or virtual showhome) is an innovative digital format that links photorealistic 360° panoramic renders together to give the impression of walking around a property. It gives potential buyers the freedom to navigate around off-plan properties from the comfort of their own home, or anywhere else, on any of their devices. Interactive walkthroughs provide viewers with engaging experiences, allowing them to explore the details of a property at their own pace and better understand the spaces and flow of a property.
There are two main categories of interactive walkthroughs - real-time and pre-rendered. At Curved Axis, we predominately favour pre-rendered, and it is what we are referring to when we use the term interactive walkthrough. However, it is worth mentioning real-time walkthroughs briefly, they make use of video game engines and real-time rendering to give the user more freedom of movement and interaction options. The main downsides of real-time walkthroughs, compared to pre-rendered, are that they, require a powerful PC to view, take longer to produce and have a lower visual quality.
Interactive walkthroughs are a fantastic tool for increasing interaction rates and subsequent leads generated from digital marketing campaigns. They are an increasingly popular solution given the current difficulties surrounding travel and face to face interactions, with interactive walkthroughs, everything can be done online. It has never been easier to incorporate interactive walkthroughs into your digital marketing campaigns than now, with the flexible options and support we provide at Curved Axis.
Let potential buyers fall in love with your property with a photorealistic interactive walkthrough they can explore from the comfort of their own home.
The Benefits of Interactive Walkthroughs
Allow potential buyers to fully explore properties at their own pace
View properties from anywhere in the world on any device
Better understand the flow of a property and how spaces connect
Sell faster with effective marketing tools available before construction has even begun
Boost sales and marketing impact with marketing campaigns that bring spaces to life, empowering sales agents with valuable tools
A cost-effective solution that removes the need for expensive hardware and a marketing suite
Frequently Asked Questions
It depends on the complexity of the project and the number of hotspots required. However, it is one of the most economical and efficient methods of showcasing an entire property, especially with the discounted rates we offer when purchased with still CGIs. Please contact us for an accurate quote including costs and an estimated timeframe.
The presentation of an interactive walkthrough is vital, without a viewer, interactive walkthroughs are just a series of 360° panoramic images with no interaction or navigation. Our clients can access their interactive walkthroughs on our online platform via the link and login details we provide at the start of the project. Once a project is finalised, clients also have the ability to embed interactive walkthroughs into their own marketing websites for a more seamless integration.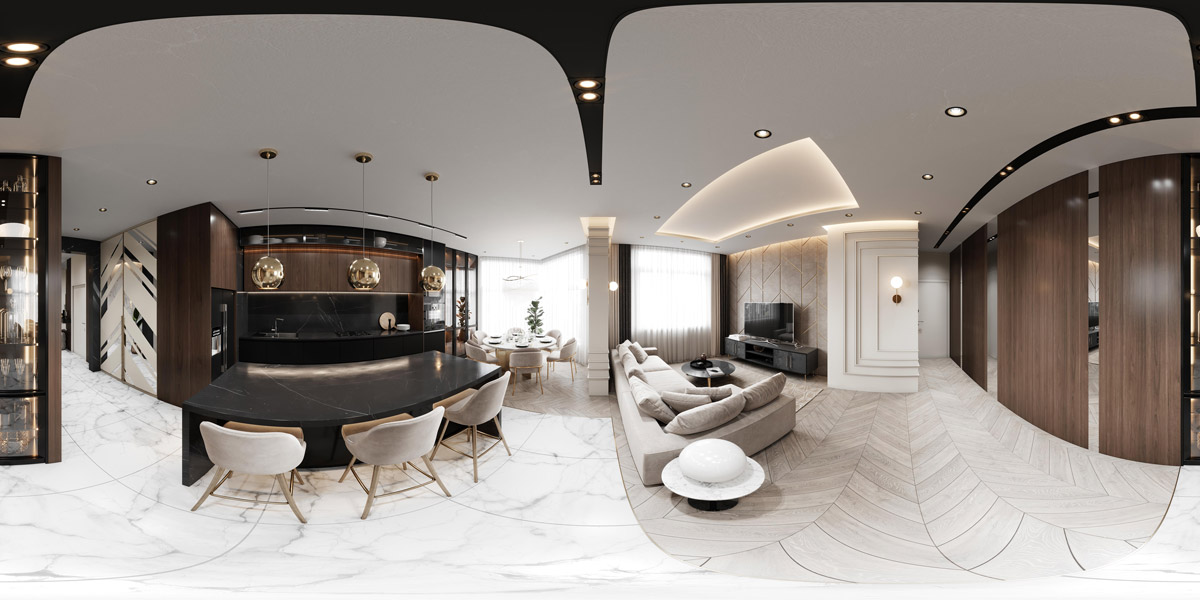 360° panoramic 3D renders are rendered images that make use of equirectangular projection to visualise every angle from a specific viewpoint. Here is an example of a 360° panoramic render:
Our interactive walkthroughs are the 3D rendered equivalent of a photographic virtual tour. The main difference is that with our 3D renders, the building doesn't have to exist yet. For more information on our 3D workflow check out our detailed explanation of 3D rendering.
Yes, rendered interactive walkthroughs have minimal requirements, all you need is an internet connection and a mobile phone, tablet or PC.
Yes, our interactive walkthroughs can be viewed in virtual reality using a mobile phone and Google Cardboard, making for an inexpensive immersive solution.
Simply click and drag to look around. Hover over a hotspot (circle with an arrow) to see the name of the room or area it represents and click to navigate to it.
Theoretically, as many as you like. However, large numbers of hotspots can be overwhelming and make it more difficult to navigate. We can recommend an optimal number of hotspots based on your specific project.
Yes, we have various customisation options, one of the most popular is to showcase a property in different lighting conditions. You will be able to switch between the two lighting states by using a toggle in the top left corner.
Interactive walkthroughs make use of the same rendering process as our still CGIs, and therefore, they have the same photorealistic quality. Interactive walkthroughs benefit from allowing the viewer to interact with a space, visualise it from every angle and truly connect with it. However, still CGIs are more accessible and can be used on static formats such as brochures and hoardings.
Fortunately, most of the 3D work from still CGIs can be transferred into an interactive walkthrough. This allows us to offer discounted prices for bundles containing both formats, making a combination of still CGIs and interactive walkthroughs a cost-effective and attractive solution.
When it comes to interactive walkthroughs, hosting and presentation is just as important as the final visuals. We offer a hosting platform, with unlimited support, that is secure, customisable and easy to use. Freelancers will not be able to offer the same platform, security and level of service. Working with us minimises risk, giving you the guarantee of quality work delivered on time.
We ask that our clients to provide the following information to get an understanding of the project.
The type of project e.g. commercial, residential, mixed, etc.
The number of hotspots and rooms
The purpose of the project and the intended output format e.g. marketing website, client presentation, etc.
What files will be available to us, when will they be available, and in what format?
The required project delivery date
If you have a question that we have not answered, please contact us via email at info@curvedaxis.com or call us at +44 (0) 20 3870 4385.
Find out about other visualisation services we offer.