Why Should You Work with Curved Axis?
There are lots of options to choose from in the busy world of interior design rendering and architectural visualisation. Here are a few of the reasons why we think you should work with us:
Stunning photorealistic interior CGIs at competitive prices – take a look at our portfolio
London based studio with experienced 3D interior rendering team
Capacity to work on larger projects and delivering consistent high-quality in a reasonable timeframe
Portfolio of spectacular work in various formats - CGIs, cinemagraphs, animations, interactive walkthroughs, virtual reality, etc.
Streamlined workflows that allow artists to focus on creativity and production
A reputation for producing breathtaking visuals that increase marketing potential and conversion rates
A desire to continuously innovate, offering clients services that make them stand out from the crowd and stay ahead of the competition
Effective communication and customer service ensure you are only involved when needed, allowing you to focus on other important tasks
What is Interior Design Rendering?
Interior design rendering is the art of visually representing architectural interior spaces. Much like with exterior architectural visualisation, this process once involved predominately hand-drawn designs but has now evolved to utilise computerised 3D rendering.
3D rendering of interiors involves firstly creating the interior building structure, furniture and other design elements as 3D models. Then adding lights, authoring textures and applying photo-realistic materials to accurately represent the proposed interior design. Interior renders can be used effectively to develop interior design schemes, assist in presentations and market properties off-plan.
If you are interested in finding out more, we talk about the 3D rendering process here. Or if you just want to see some impressive interior images check out our portfolio.
The Benefits of Interior Rendering
Impress clients with stunning CGIs that accurately detail your design and assist presentations
Explain your designs easily, ensuring that everyone involved understands every single detail
Make viewers fall in love with the home of their dreams, with beautiful interior CGIs that tell a story
Realise a development's marketing potential before construction has begun
Attract more viewers and increase conversion rates on marketing websites and social media campaigns
Gain full control with iterative interior rendering that let you perfectly craft interior design schemes
Types of Interior Rendering
Interior design renders can be broken down into a few different categories, knowing the benefits of each of these can help you choose the most appropriate format.
Still CGIs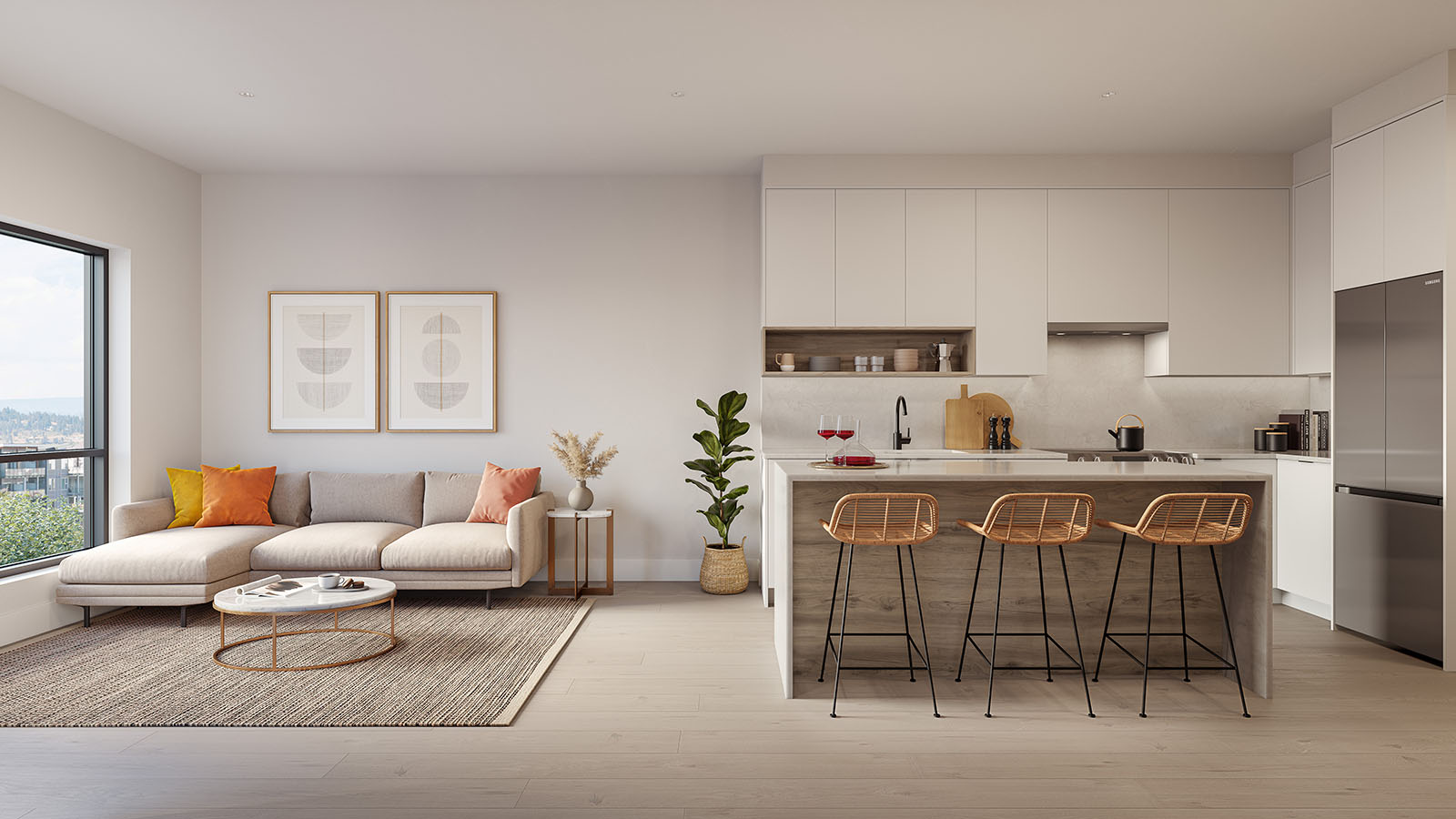 Still interior CGIs make use of an entirely 3D modelled scene. They allow you complete flexibility and artistic freedom, with the ability to change models, cameras, lighting and material as you wish. Interiors with lots of glazing can make use of a photographed backplate to set the scene and showcase the view.
Virtual Staging
Virtual staging involves combining a photograph with 3D furniture. It allows you to bring unfurnished properties life and unlock their marketing potential. By matching the camera and lighting of an existing interior photograph we can add design elements and virtually stage a realistic interior.
Cinemagraphs
A crossover between a still image and an animation, cinemagraphs give you the best of both worlds. By montaging a looped animation over a still interior CGI you get the interesting motion provided by animation but without the additional render time. Examples of cinemagraphs could be - a never-ending flow of water or curtains forever blowing in the wind.
Fly-through Animations
A great way to demonstrate how spaces connect and bring an interior to life. Fly-through animations allow viewers to connect with your design, understand the flow and fall in love. Marketing campaigns that include engaging animations have more interactions and higher conversion rates than those without. Find out more about our animation services.
Interior Design Rendering Workflow
Proposal
After collecting information about the project, we provide a proposal detailing our approach, costs and delivery schedule.
Clay Preview
Clay renders of the model are produced from several camera angles. This gives the client an early impression of how the CGIs will look and the ability to select their preferred composition.
Previews (Revision Rounds)
Production continues by adding textures, details and progressing the overall quality of the image. Previews are sent to the client to demonstrate the progress and allow them the provide comments. A standard project will include two rounds of revisions.
Final Delivery
Once the preview has been approved a high-resolution version is rendered and sent the client for sign-off.
We have more information about our workflow and getting the most out of working with us in our post – Working with Curved Axis.
Frequently Asked Questions
The cost of a render depends on the modelling complexity, timeframe and if any optional extras are selected (ultra-high-resolution, increased revision rounds, etc.). Modelling complexity relates to the difficulty and the amount of bespoke modelling required. Contact us for a fast and accurate quote.
Sometimes, but not always. It comes down to the complexity of the individual shot. For both interior and exteriors, we suggest allowing up to 3 weeks for standard projects (1-6 images) and 4+ weeks for larger projects (7+ images). In situations where this is not possible, please contact us as we accept expedited projects on a case by case basis.
Yes, we definitely can. However, we believe that it is not necessarily a requirement for stunning CGIs. Some projects are suited to photorealism while others benefit from a more conceptual look or softer painterly style. Whatever the art direction, we can confidently accommodate your project's needs.
Yes, of course, as a starting point we will use furniture from our extensive 3D library. But when required, our talented artists can create bespoke models to accurately represent any design. All we require are reference images or 2D drawings (plans and elevations).
In most cases, we will be able to produce higher quality visuals with a more photorealistic look, which depending on your objectives could be a very important factor. In-house design teams are often most valuable when producing imagery to assist with the initial design development, but can fall short when creating high-quality marketing CGIs to convince potential buyers. This is why we offer to take over for the marketing phase, developing on top of the 3D scenes created by the in-house team, allowing for a faster turnaround and lower costs.
Higher quality images, professional customer service and reduced risk. When you work with us you benefit from our experience and our reputation for consistently producing stunning CGIs. Working with a freelancer work well for smaller projects, but it can also be risky. You have no assurance that work will be delivered on time, or that the quality suffice. Communications issues can also arise causing you to waste more of your time ensuring that your brief and comments are correctly interpreted.
Yes, we can. Well placed people can help tell a story and bring an interior to life. We have a library of 2D cut-out and 3D scanned people that can be added into any interior render. If you want even more control, we can also organise green screen photoshoots and cast actors so you can decide exactly how you want them to look.
Sure, we can produce your images at whatever resolution you need them to be. It is beneficial for us to know this at the start of the project, as it will have a slight impact on our production and the costs.
Definitely, most of the work involved in creating interior renders can be reused for interactive walkthroughs or animations. This allows us to offer discounted prices for projects with multiple formats, making still CGIs a great base for any design.
We include two rounds of revisions in our standard projects. In most cases this is sufficient but it can be adjusted to suit specific projects. For example, projects that involve the initial development of an interior design scheme may benefit from an increased number of revision rounds.
We need to know the following information to understand the project and produce a proposal:
The type of project e.g. commercial, residential, mixed, etc.
The number of CGIs
The purpose of the project e.g. marketing, design development, client presentation, etc.
The intended output formats e.g. websites, printed brochure, marketing suites, etc.
What files will be available to us, when will they be available, and in what format
The required completion date of the CGIs
If you have a question that we have not answered, please contact us via email at info@curvedaxis.com or call us at +44 (0) 20 3870 4385.
Find out about other visualisation services we offer.