The Benefits of Working with Curved Axis
Architectural visualisation is a popular industry, with freelancers, in-house artists and specialised visualisation studios all capable of producing 3D renders. So, what are the main benefits of working with us on your next project?
Competitively priced, stunning and photorealistic exterior CGIs – take a look at our portfolio
London based studio with experienced architectural visualisation team
Capacity to work on larger projects without compromising quality or timeframe
Ability to produce high-quality work in a variety of formats - CGIs, cinemagraphs, animations, interactive walkthroughs, virtual reality, etc.
Reputation for producing breathtaking visuals that increase marketing potential and audience engagement
Efficient workflows that allow artists to reduce time spent on repetitive tasks and focus on production and creativity
Wide-range of experience across many disciplines and visual styles
Great customer service and effective communication means you will only be involved when required, as to not waste any management time
What is Architectural Visualisation?
Architectural visualisation (or arch viz) refers to the artistic process of representing a structure visually in an easily digestible manner. Quite simply - visualising architecture. Before computer modelling became popularised, architectural renders were produced solely by hand. A few artists still work this way, but now computerised 3D rendering is by far the most common way of producing architectural renders.
3D rendering involves using software to create 3D models and then rendering them out to produce accurate, photorealistic CGIs (computer-generated images). The goals of an architectural render can differ greatly depending on the project - ranging from assisting in the design process, presenting concepts to a client or marketing to the public off-plan.
We have a detailed post further explaining the 3D rendering process.
The Benefits of Architectural Visualisation
Add value to architectural presentations and portfolio with high-quality visuals that sell your design and win over clients
Maximise the marketing potential of a development before construction begins
Grab the audience's attention with well-crafted visuals that tell your story, increasing engagement on your marketing website and social media campaigns
Communicate design ideas with ease, ensure everyone involved in the project is on the same page
Open up possibilities and remove physical limitations - visualise an aerial view of a development that has not been built yet; Or present building designs to a client with 3D sections and simulations that would not have previously been possible
It is economical and does not require large amounts of resources
Architectural Visualisation Types
Architectural visualisations can come in many different formats. Understanding each of these can help select the most suitable option for your project.
Still CGIs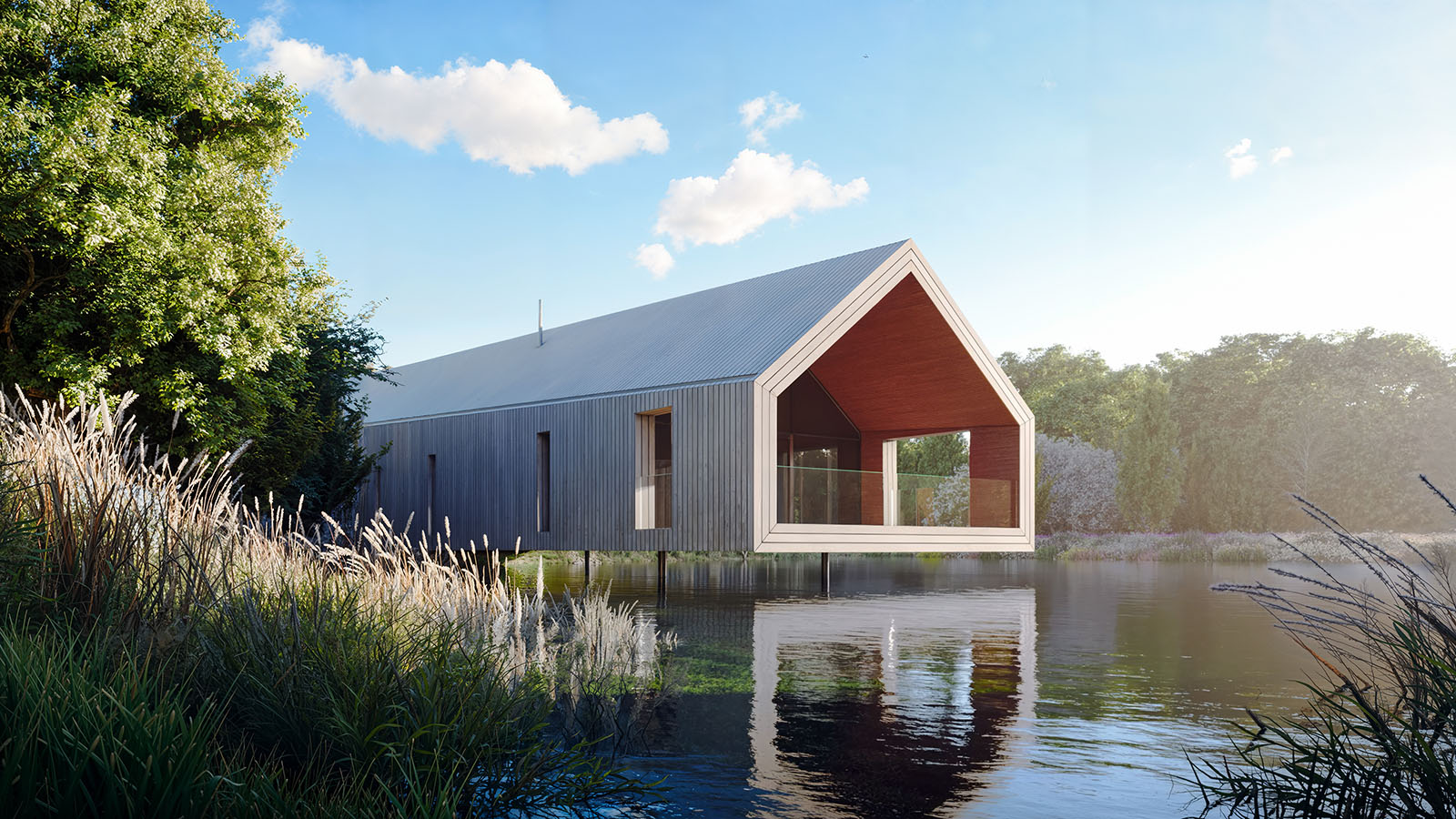 A still image of a fully modelled 3D environment. This approach gives complete flexibility in terms of composition, lighting and materials. It is a great option for inward-looking schemes or remote sites where landscapes can be easily modelled and manipulated as required.
Photomontage CGIs
A photograph of an existing real-world environment with 3D elements, such as buildings, composited on top. This is a great way of visualising a proposed building will look in context, it is perfect for sites located in areas where the surrounding buildings are already developed.
Cinemagraphs
A predominantly still image where an element has a subtle looped motion. A cinemagraph is the step between a still CGI and an animation, it allows for the interest of animation to be added without the extra time and cost. Cinemagraphs are great for digital marketing and social media campaigns as they engage audiences and increase interaction rates.
Fly-through Animations
An animation with a moving camera navigating through a development. This is a great way to show the viewer the flow of the space and bring it to life. Animations are perfect for digital marketing campaigns as they entice viewers and elicit a stronger emotional reaction. Animations can also include motion-graphics, live-footage and drone footage. Find out about our animation services.
Frequently Asked Questions
The price of a render is based on several factors, the complexity, project urgency and if any extras are required, such as ultra-high-resolution or an increased number of revisions. The complexity of a project mainly relates to its scale and how much bespoke modelling work is required, but it is not easily quantifiable. For an accurate quote on a project, please contact us.
Of course, we consider most of our renders to be photo-realistic but it is not always the goal. Depending on the project and its design, abstract, painterly or conceptual styles could be more suitable. It is not photorealism that makes the audience fall in love with an image but how it makes them feel and the story it portrays.
In most cases, visualisation studios can produce visuals of a much higher and photorealistic quality. So, it depends on the purpose of the renders. If you are just testing out some options to help with the initial design development, then it probably is not worth it. However, if you are looking to wow the competition, produce presentations that win over tough clients or create engaging marketing content, then we would be the best option. We can also work with your team, continuing where they left off. This can work well for architects that want to produce renders in-house to assist with their design process but then pass on to a visualisation studio for marketing purposes.
There are many freelancers in the world that produce architectural renders and they are typically cheaper than visualisation studios, but selecting a freelancer comes with a decent amount of risk. Freelancers provide no guarantee of the quality of the work or that it will be delivered on time. They can have issues with organisation and communication that ends up draining more of your management time.
Working with us gives you the guarantee of professionalism, effective communication and stunning visuals. We are also able to ensure the same style and quality across multiple images and a variety of output formats to ensure your message is consistent.
Yes, a 3D model is always preferred to 2D CAD drawings and will help speed up CGI production. However, these models will not have been created to achieve photorealistic results, and therefore we will still likely have to perform some optimisations. Our clients typical provide us with 3D models produced in technical CAD software (Revit, Rhino, etc.) and less frequently with 3D models created in architectural software (SketchUp, 3ds Max, etc.).
Yes, we can add 3D scanned or 2D cut-out people from our library to any architectural render. Alternatively, we can arrange green screen photoshoots with real actors so you can decide exactly how you want them to look.
We can render your images as large as you need them. But we need to be aware of this at the start of the project, as it has a minor impact on our work and the costs. As standard, we produce our renders at 4,000 pixels on the longest dimension. This resolution is perfect for presentations, digital marketing materials and printed brochures but would look slightly low-resolution on larger formats such as billboards or hoardings.
Of course, still renders are a great starting point for other formats such as cinemagraphs, animations and interactive walkthroughs. This is because a large amount of the modelling, lighting and texturing work is already completed. As a result, we offer packages including multiple formats at discounted prices.
The time it takes to complete architectural renders is dependent on several factors:
If we are supplied with a 3D model or have to create it
How quickly will we receive client feedback, and how many rounds are required
The complexity of the project, and the number of images required
As an estimate, we suggest allowing up to 3 weeks for standard projects (1-6 images) and 4+ weeks for larger projects (7+ images). We understand that sometimes this is not possible, and we do accept expedited projects on a case by case basis. Please contact us for more details.
We include two rounds of revisions as standard. This can be adjusted to suit different projects, reducing to only one revision could help save costs. Conversely, we recommend allowing more revisions for projects where it would be helpful to test out different design options. We can advise on this at the proposal stage. Take a look at our post detailing the process of working with Curved Axis.
We ask our clients to provide the following information so we can get an understanding of the project.
What type of project is it? e.g. commercial interiors, residential exteriors, mixed, etc.
How many CGIs are required?
What is the purpose of the project and the intended output format? e.g. marketing brochure, construction hoardings, planning, etc.
What files will be available to us, when will they be available, and in what format?
When does the project need to be completed?
If you have a question that we have not answered, please contact us via email at info@curvedaxis.com or call us at +44 (0) 20 3870 4385.
Find out about other visualisation services we offer.